HHCI, is engaged in manufacture of single girder EOT cranes includes Material Handling EOT Cranes with capacity ranging from 0.5 ton to 40 ton. These single girder overhead cranes are fabricated by us keeping into consideration the Indian standards. Dimensionally accurate and functionally superior, these cranes are immensely used in diverse industries for material handling. Sturdily constructed, these cranes serve the application demands of different industries for a long period of time.
Design, Features & Specifications
The single girder overhead cranes (single girder EOT cranes) is very convenient equipment for material handling even in the small production units and warehouses. The reduced wheel loads combined with very low headroom standard hoists provide outstanding value. These material handling overhead cranes can fitted in different floor areas by using various fixing arrangements and modifications in design. The accurate dimensions result in optimal hook position providing exceptional travel characteristic. Generally there is minimum safety distance with the ceiling of the building for overhead cranes with load capacity range of up to 10 T. This provides a typical advantages of utilizing the space at its best even in the buildings with unfavourable dimension. We can design and efficiently install traveling cranes in available space by using different fixing arrangements. To accomplish the project with perfection, all we need is accurate dimension of the building during the planning stage. We specialize in custom designing cranes based on the specific needs of the clients.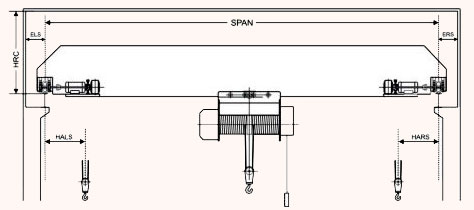 Standard Features
Design :
'HHCI' Electric Overhead Traveling Cranes are designed & manufactured accordance with IS-807 & IS-3177, considering factor of safety in respect to appropriate class of duty.
Motors :
The motors are used specially crane duty suitable for frequent starting , reversing & braking in accordance with IS-325. Motors are totally enclosed in dust proof construction foot / flange mounted TESC / TEFC , Sq. cage motors with integrated safety brakes, insulation class F, IP54 protection for hoisting, CT & LT motions.
Brakes :
Single/dual-disc/ shoe electromagnetic/ EHT brakes with features like automatic braking on power failure ( FAIL SAFE ). The entire gear boxes are made of accurate hob cut helical / spur gears & pinions having hardness 250 to 350 BHN made from carbon alloy steel. All gears & pinions running on antifriction type ball / roller bearings in totally enclosed oil bath giving constant splash lubrication. The helical / Spur gear designed for adequate strength and optimum wear resistance for smooth operation & long life.
Electrical Panel :
Modular design, ease to install and maintain, reliable operation, fuse less circuitry, ducted wiring and compact terminals. Motor overload protection to prevent overloading.
Limit Switch:
Safety limit switches for stoppers will be provided to prevent over traveling in all motions.
Painting:
Two coats of primer before assembly & two coats of synthetic enamel after testing.
Optional Features :
➣ Variable speed through VVF Drive
➣ Soft starter
➣ Wireless Radio Remote control
➣ Shrouded DSL system for power feeding
➣ Flameproof