We offer superior range of Electric wire rope hoist. It is manufactured by using premium quality raw material and in compliance with international standards of the industry. To cater to the requirements of our diverse customers, we also offer the facility of customization.
Salient features :
Design
'Hindustan' Hoist are designed as per lS-3938 for Class-ll,lll, and lV Operation.
Motors
We offer l/2 hr/ 1hr. rated totally enclosed motors confirming to lS-325 with comparatively higher H.P. & starting torque, flange mounted type to suit our design with class f insulation.
Frame
Made from M.S. Rolled Steel Plates.
Gear Boxes
It is equipped with precision flat helical / spur gear units in light alloy housings with case-hardened gears and anti friction bearings on both sides with high-grade surface treatment and permanent oil /grease lubrication.
Rope Drum
Rope Drum is manufactured from seamless pipe machined & grooved on working surface. The drum is supported on tow deep groove ball/roller bearing.
Rope Guide
The rope guide is made of spacial casting & is specially designed & accurately machined to suit the grooves of the rope drum & prevent the rope from overriding & loosening.
Wire rope
As per lS: 2266 of reputed make, suitable construction and with ample factor of safety.
Hook
Made of forged steel as per lS: 3815, supported on thrust bearing.
Bearing
Deep groove ball bearing of reputed make as used all rotating parts & are grease packed-. Heavy duty bearings selected, so that rated life of bearing is more than 9000 hrs.
Hoist Brake
Electromagnetic Disc type brake provide for easy maintenance mounted on the rear end of the motor.
Trolleys
Push-Pull, Hand Geared or motorized trolleys of adjustable type and fitted with ball bearing are made to suit recommended size of beams.
Limit Switch
Snap action type switches are provide to avoid over hoisting and over lowring, actuated by rope guide. Cross Travel limit switches also can be provided as an optional feature.
Control Panel
Housed in sheet metal covering and provide with Siemens, L&T, Snider make Triple pole reversing contractors , Triple pole thermal overload relays of auto-reset type in power circuit, cartridge type fuses in control panel, step down transformer to go 241110 volts max. for pendant control.
Attachment
We can also provide extra special attachments on request like flexible trolley to negotiate curved tracks, Brake on Cross-travel motors.
Explosion Proof
Explosion proof hoist are manufactured by us in accordance with lS standards. Explosion proof Cage/Goods lifts are also manufactured by us in accordance with the clients' reouirement.

TECHNICAL SPECIFICATION
Capacity
Tonnes
0.5
1
2
3
5
7.5
10
15
Heioht of Lift
Mtr
6
6
6
6
6
6
6
6
No. of Falls
2
2
2
2
4
4
4
4
Wire Rope Dia.
mm
6
8
10
12
12
14
16
20
Hoisting Speed
m/min.
5
5
4.5
4.5
4
4
4
3.5
C.T. Speed
m/min.
15
15
15
15
12
12
12
12
Hoisting Motor
hp
1
1.5
2
3
5
7.5
12.5
15
C.T. Motor
hp
0.25
0.25
0.5
0.5
1
1
1
1.5
DIMENTION
A
mm
600
650
750
750
1050
1050
1050
1350
B
mm
450
450
600
600
800
800
800
1000
C
mm
350
350
400
400
600
650
700
700
D
mm
300
350
400
400
550
600
650
650
J
mm
300
350
350
350
425
425
452
500
Weight (Aprox.)
kg
300
320
375
400
600
650
725
1250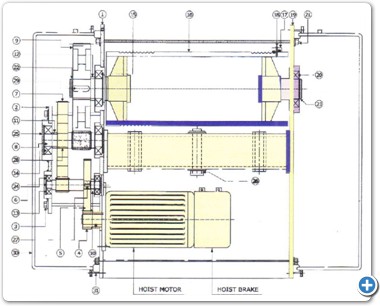 | | |
| --- | --- |
| 1. Geared Side Plate | 17. Rope Clamp |
| 2. Outer Plate | 18. High Tensile Alien Key Bolt with Spring Washer |
| 3. Stud with Hex Nut, Lock Nut & Plain Washer | 19. Contactor Side Plale |
| 4. Motor Pinion | 20. Bea ring |
| 5. I Stage Gear | 21. Tie Rod with Hex Nut, Lock Nut & Plain Washer |
| 6. II Stage Pinion | 22. External Circlip |
| 7. II Stage Gear | 23. External Circlip |
| 8. III Stage Pinion | 24. Internal Circlip |
| 9. Drum Gear | 25. Internal Circlip |
| 10. Spacer (For II Stage Pinion) | 26. Wire Rope |
| 11. Spacer (For III Stage Pinion) | 27. Key (For II Stage Pinion) |
| 12. Spacer (For Drum Shaft) | 28. Key (For III Stage Pinion) |
| 13. Bearing | 29. Key (For Drum Shaft) |
| 14. Bearing | 30. Gear Box Cover |
| 15. Bearing | 31. Rubber Gasket |
| 16.Rope Drum | |